Activity Review - Tandem Paragliding Cape Town with Cape Hope Paragliding

Paragliding Cape Town and Tandem Paragliding Cape Town has become one of the must do adventure activities in Cape Town. We were invited by Cape Hope Paragliding to go and experience first-hand what it feels like to have a bird's eye view over the city. In Short, this can only be described as the ultimate adrenaline rush and most incredible experience you can imagine.
If you prefer, we have made a vlog about our experience and you can view this at the bottom of this article.
A bit more about Cape Hope Paragliding before we give you a review of the experience. Cape Hope Paragliding is headed up by Francois de Villiers. Francois is an avid paraglider and has been flying over 10 years. He will soon be joined by his dad, also named Francois who has been flying since 1993. To make it easier, we will now refer to them as Francois Jnr and Francois Snr. Francois Jnr has always wanted to paraglide as far back as he can remember and was finally allowed to do so when he was around 14 years old. At 19, he received his tandem paragliding license and finally at the age of 22, he received his commercial paragliding license. From here there was no turning back and Francois Jnr found his passion and calling in life. Having both Francois Jnr and Snr onboard along with years of training, will make for a formidable team with years of experience among them all aimed at providing only the best experiences to their customers.
Well to start off with our review, I was super excited to go tandem paragliding as it is one of the must do Top Activities Cape Town. At the same time though, I was extremely nervous. To put this into perspective, I was dreaming about paragliding the night before!
On the morning of the activity, I was contacted by the team to advise me of the weather and wind situation. This is especially important as tandem paragliding Signal Hill is completely dependent on the weather especially the speed and direction of the wind. In the event of poor weather, Sea Point tandem paragliding and Lions Head tandem paragliding will be cancelled and rescheduled. Having the instructor contact you before, saves you from driving all the way to the activity only to find out that it will not be taking place.
Once I arrived at Signal Hill, one of the best places where to paraglide in Cape Town, I was met by a smiling and very enthusiastic Francois Jnr. I promptly advised him of my intense fear of heights and that I did not think I could do this. The response was calm, friendly, and completely put my nerves at ease. This is a crucial part of the experience as the instructor sets the tone for the entire tandem paragliding flight.
Next, I received a safety briefing about paragliding safety and training, and all the safety gear needed for the tandem paragliding experience. During all of this, all COVID-19 and coronavirus precautions were taken with masks being worn all around and hand sanitiser available for guests.
I was advised that the wind needs to be checked and once in the right position, we would go for take-off. It is important to note here that once you start walking, you must commit as there is no turning back. Walking turns into running and eventually you will be in the air!
After a false start, we decided to watch a couple of other tandem paragliders take off.
Finally, the wind was in the right direction and my turn arrived. I was strapped into Francois and his two assistants ensured that everything was locked in and all safety requirements had been met.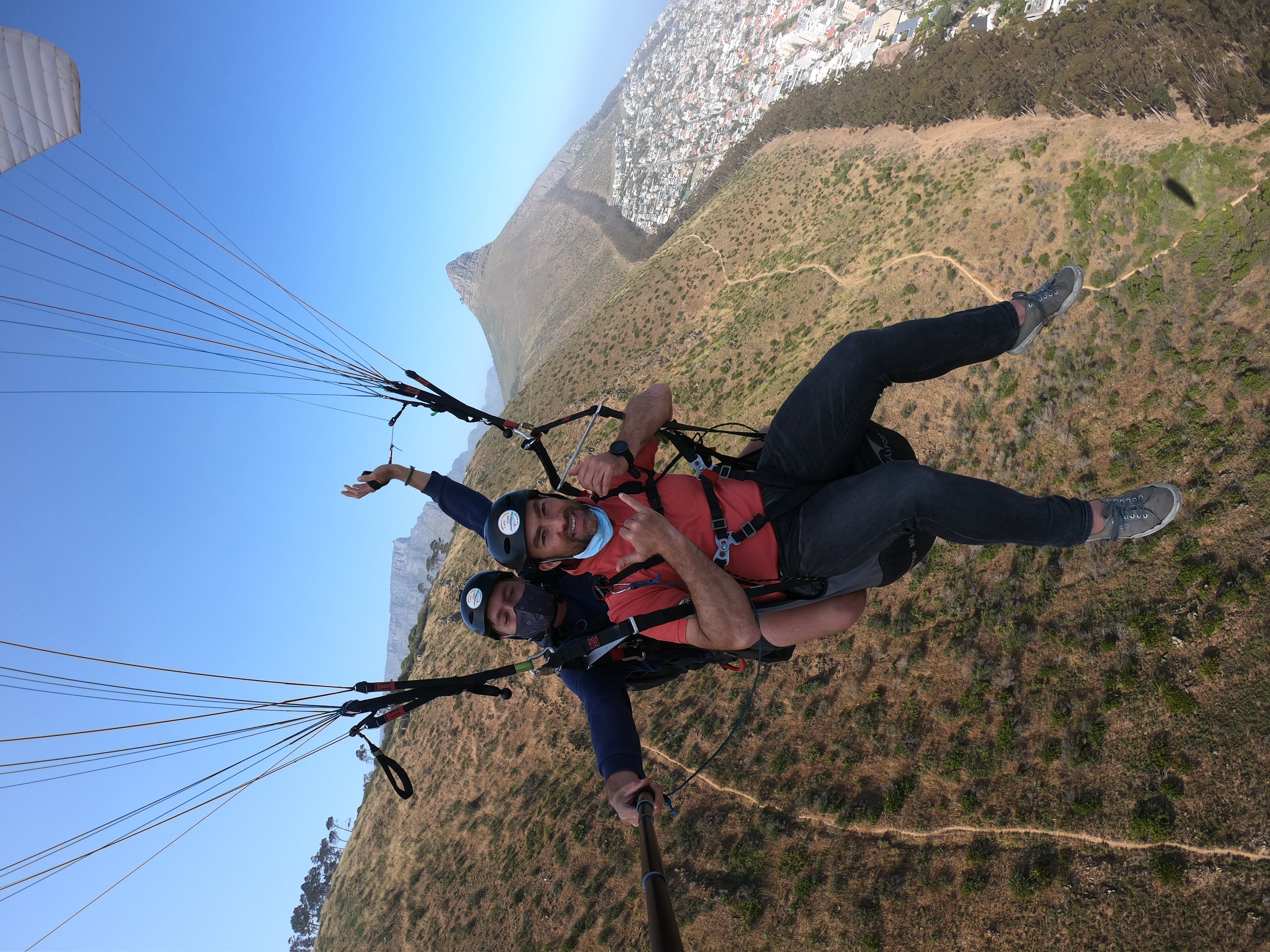 We started walking, which turned into running and before I knew it, I was in the air. Except for landing, this was the most nerve recking part as I did not know what to expect.
Now the most amazing thing happened. All my fear of heights immediately disappeared and replaced with the most amazing adrenaline rush and sense of adventure.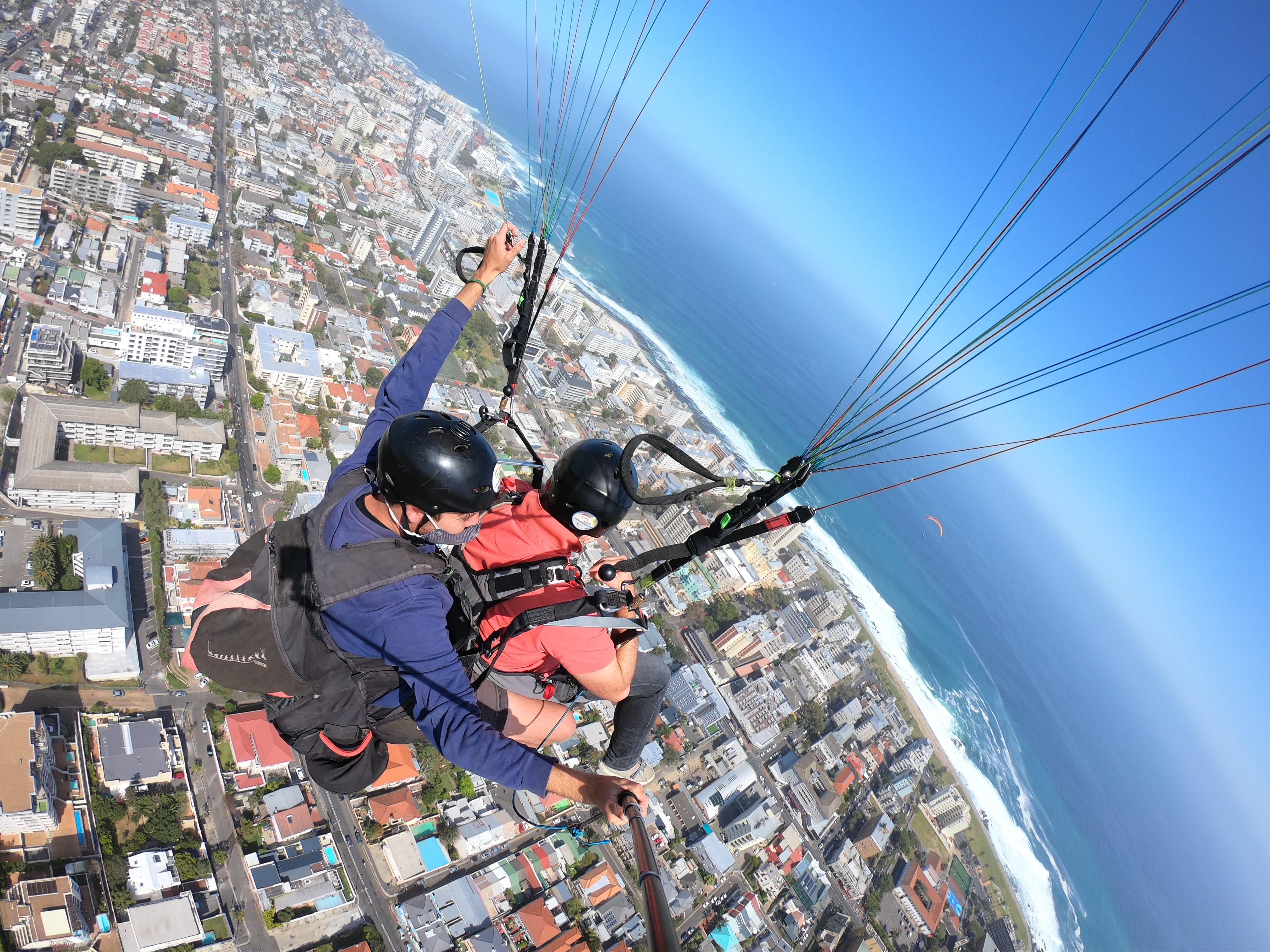 The flight heads of to the left of Signal Hill, still low of the ground before getting a bit higher and flying over Sea Point. At this stage, Francois asked me if I wanted to fly. The answer is ABSOLUTELY! I take the handles and am given instructions on how to manoeuvre the paraglider! I do this for two minutes and it was possibly the highlight of the entire tandem paragliding experience.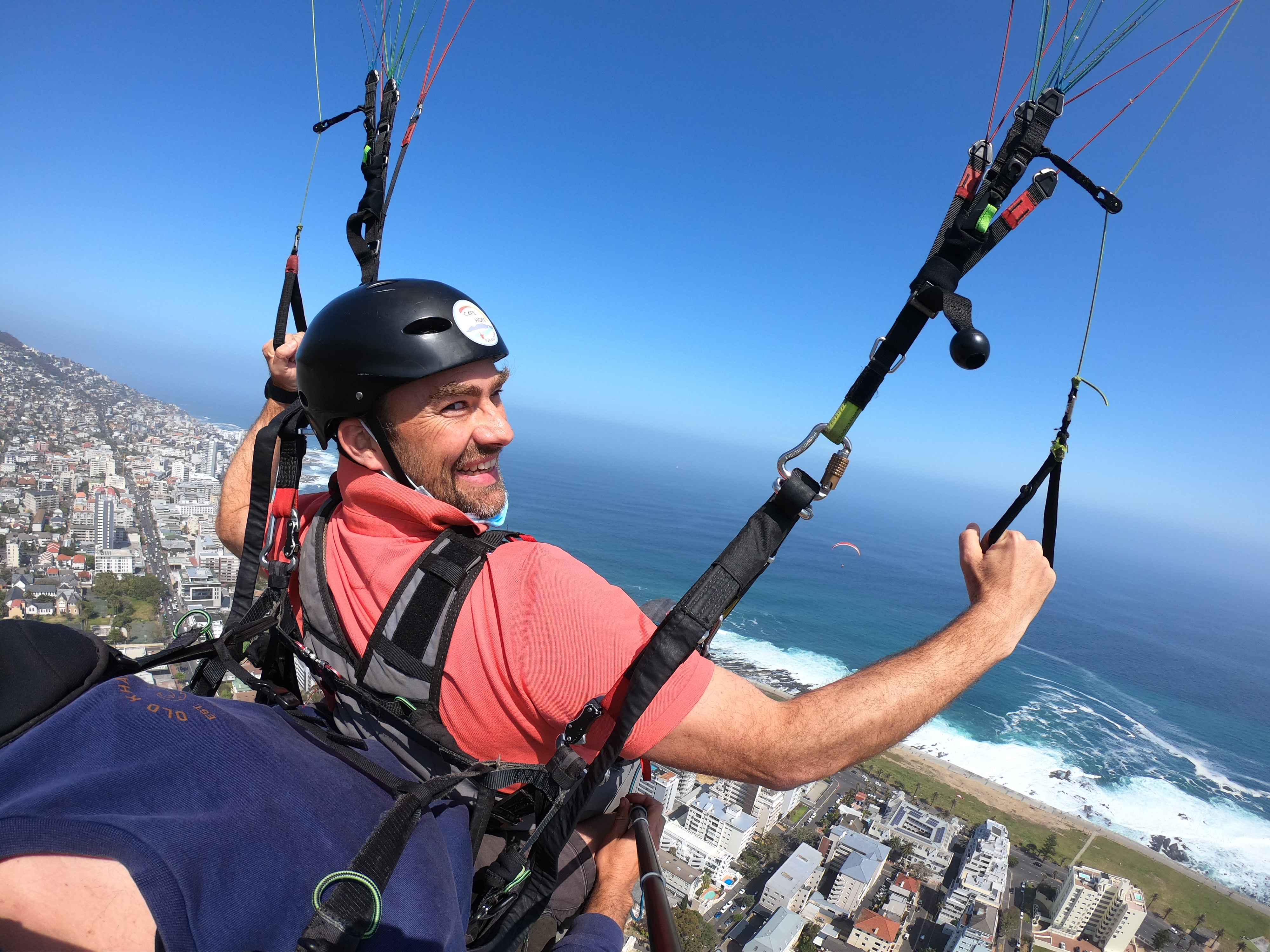 We finally get to the Sea Point promenade and fly over the coastline below. Seeing the Sea Point promenade and waves crashing over the rocks below is beyond incredible!
Now we do a couple of sharp turn as we need to land next to the promenade in front of the Winchester Mansions. I remember Francois calling these acrobatics. Perhaps I was not quite ready for the acrobatics, but next time!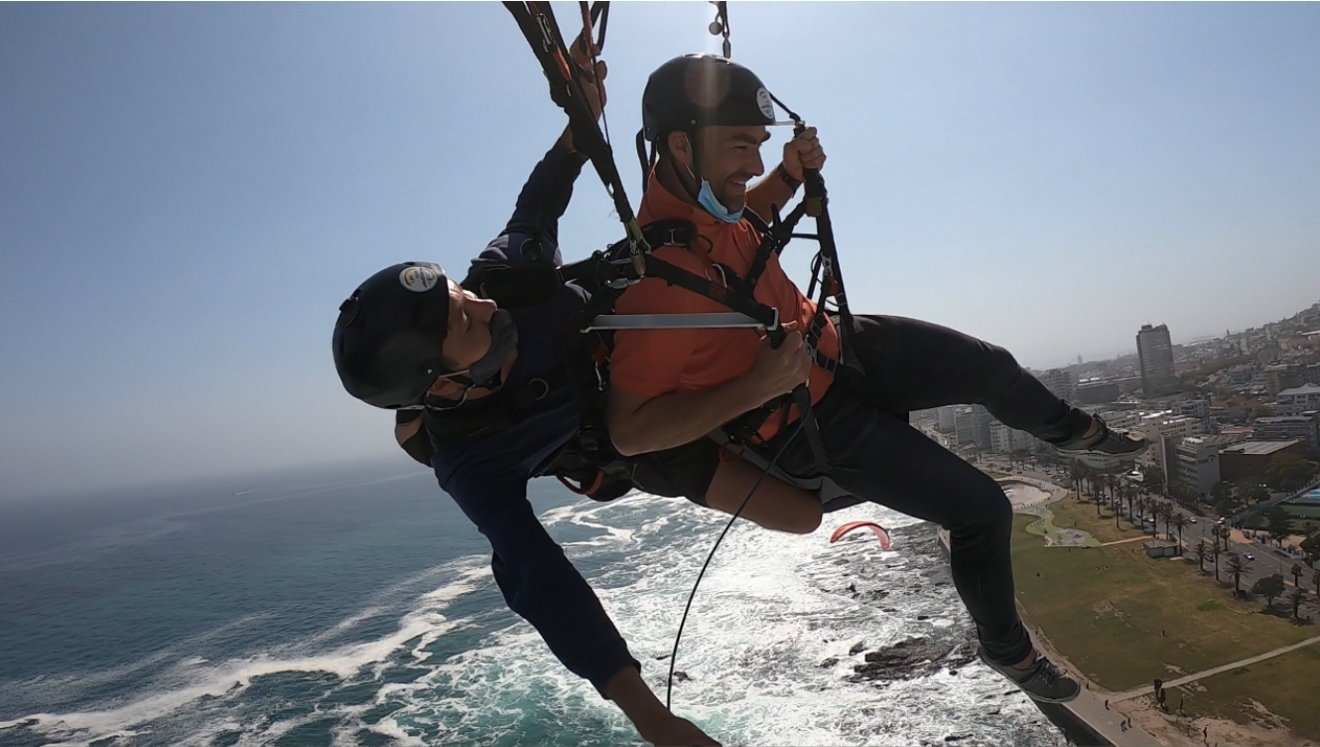 Below us I can see the previous flyers going in for a landing next to the promenade, right in front of The Winchester Mansions. Francois Jnr gives me a safety briefing about landing and that just before landing I need to stand up. Right, here we go! At this stage, we were speeding up and I must admit, I was a bit nervous. However right before we meet the ground Francois Jnr manoeuvres the paraglider and I am told to stand up. And just like that we are standing on the ground. As gently as a feather touching down.
The total experience lasts about 10 to 15 minutes and was guided from start to finish by the tandem paragliding instructor. It is worth every cent! We quickly pack up and jump in a taxi back to signal hill.
This is a must do adventure activity when visiting Cape Town and The Cape Peninsula and I can highly recommend it for anyone who wants to get out of their comfort zone and experience something different.
The price for an average event like this starts at around R1300 for a tandem paragliding flight!
Bookings available online with real-time availability, secure payment, and instant confirmation.

Andre Admin
2021-04-12 10:13:04
What an incredible experience
Andre Strydom
2021-04-12 10:14:25